The Clyde Valley orchards are an important part of our local landscape. They have seen the development of new varieties of fruit, been the source of new foods, drinks, songs and stories, and provided an income for many small and large local businesses.
They have changed dramatically from their early monastic beginnings to become Scotland's leading commercial fruit producing area in the 19th century. Since then, the markets for local fruit have slowly declined and today the orchards are in danger of being lost from our countryside. As orchards become a less common component of the landscape and many stand neglected or under-utilised, more questions are being asked about what we are losing. These orchards provide an important bank of fruit and knowledge at a time when local produce and variety is starting to be valued in new contexts.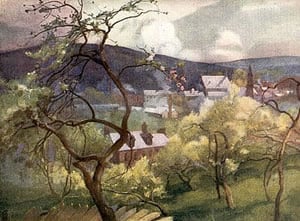 * In – Maxwell, D. The Clyde (1907). Reproduced with kind permission of Lanark Library, South Lanarkshire Council Library Service.